Voice Broadcast
CallRocket's most popular feature allows companies of all sizes and industry to drive new business! Simply record your message, upload your phone number and potential lead list, schedule your campaign and instantly get live call transfers routed to your sales representatives. CallRocket offers a state of the art pay as you go platform scalable to hundreds of thousands of call per minute with instant live transfer leads.

Smarter Lead Generation
CallRocket Voice Broadcast allows interested leads to elect to transfer to your sales teams, so they can answer questions, take orders and process sales. You can take as many or as few of inbound transfers as your sales team can handle by setting maximum simultaneous transfers. Building your company's sales pipeline has never been easier!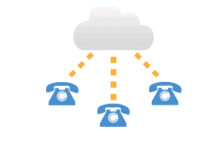 Scale Instantly in the Cloud
CallRocket sends calls at 50 calls per minute by default. But do you want to reach a wider audience faster? No worries—CallRocket's Voice Broadcast service is quick and easily scalable to up to thousands of calls per minute. You're limited only by your ambition and your list. So go ahead and cast a wider net with CallRocket!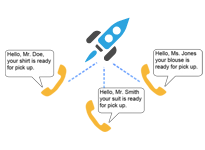 Send a Custom Voice Message
Send calls alerting customers to overdue bills, appointment times, or account-specific information. With CallRocket's text-to-speech technology, realistic voices deliver messages customized with information from your spreadsheet or server.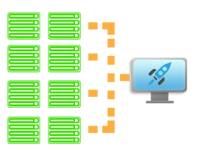 Enterprise Capacity & Developer APIs
Building your own telephony applications has never been easier. CallRocket's developer support will assist you in your app development from beginning to end! CallRocket APIs will provide all the functionality your telephony application requires.