Text Messaging
Simply type your message into our proprietary web platform, uplwoad your phone number list, schedule your campaign and your message is minutes away from being in front of thousands of consumers! Many companies on the CallRocket platform use text messaging to send appointment reminders, important product updates, seasonal specials and discounts.

Target Your Customers
CallRocket keywords allow any small- to medium-sized business to interact directly with their customers and build a text marketing database of customers. For example: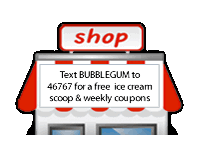 Buy a Keyword
Simply buy the keyword
"BUBBLEGUM" and post a
sign like this.
Customize your Message
Your autoreply could look
similar to the message
above.
Interact with your audience
Now customers can receive
your weekly coupons until they
reply "stop".
Long and Short Codes
Short codes are five- or six-digit cellular phone numbers that you rent on a shared basis or buy outright. They are great for small businesses that want to save.
| | | |
| --- | --- | --- |
| | Short Codes | Long Codes |
| Used for Contests | | |
| Redeemable Coupons | | |
| Notifiable Alerts | | |
| Marketing Lists | | |
| Send / Recieve Texts | | |
| Manage Message | | |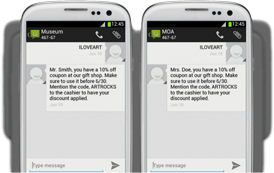 Customized messages for each recipient
Targeted messages increase response rates. Want to include information specific to each of your customers in your text campaigns? No problem. Our automated custom merge fields help make your texts more personal. You can address each customer by name, provide an individual account balance, or remind them of an upcoming appointment. The possibilities are endless.
Reliable mass text messages via API
Building your own text messaging applications has never been easier. CallRocket's developer support will assist you in your app development from beginning to end! CallRocket APIs will provide all the functionality your telephony application requires.