Interactive Voice Response (IVR)
CallRocket's hosted IVR solution allows you to create phone trees as simple or as advanced as you want. Just record your messages — or choose the text-to-speech option — and build anything from an automated outbound survey to an auto-attendant that routes calls to your office. You can even attach your IVR to a CallRocket toll-free or local number. With CallRocket's IVR solution, there are unlimited possibilities.

Outbound Surveys and Polls
CallRocket's IVR platform allows you to get the real-time information your organization needs. Design and manage a survey in minutes directly from your desktop, and get up-to-the-minute reporting on call data. Whether you are a political campaign needing to hit the field with an identification poll, or a business needing to conduct a customer satisfaction survey, getting the data your organization needs has never been easier!
Auto-Attendant and Call Routing
Have CallRocket's automated attendant answer your incoming calls with a customizable recorded greeting and menu of options. The CallRocket interface allows you to set up an unlimited amount of extensions that will route to any forwarding number. You can even create a voice mail service to answer calls when you are unavailable. Within minutes, you can configure your local or toll-free number into a professional, automated attendant and start taking calls.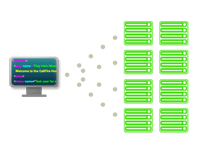 API Integration with Web Applications
Building your own voice applications has never been easier. CallRocket's developer support will assist you in your app development from beginning to end! CallRocket APIs will provide all the functionality your telephony application requires.